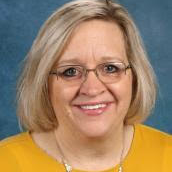 Welcome to ACGC 5-12!
As the principal of ACGC, I am committed to working with the dedicated staff, parents, and community to continue providing an exceptional educational experience for ACGC students. Together we will work to provide a positive, safe learning environment that promotes high levels of student achievement.
Our educational program is rooted in our community's respect for the dignity and integrity of all our students and families. Our shared belief to "prepare every student to be productive citizens in a global society" is focused on the work we do together to encourage the social, emotional, and academic growth of all our children.
Please take some time to explore our website. You will find information about the current happenings at ACGC along with information about our faculty and staff, academic programs, and student activities.

Welcome to ACGC!

Robin Wall, ACGC Principal
5th / 6th Grade
Junior / Senior High School
27250 MN Hwy 4
Grove City, Minnesota 56243
5-12 School
(320) 244-4730
Attendance
(320) 244-4680
5-12 School Fax
(320) 857-2937